Your Wedding With The Company
On the best day of your life, 
you want your guests to have the best night of theirs. 
That's where we come in.

The energy of live music. Interaction with talented performers. Song selection from the 70s to today. An Emcee for your entire night. Expert planning and preparation. State of the art sound and lighting. The Company has it all.

Here's a quick look at what we'll do for your reception.

STANDARD, FULL-SERVICE PACKAGE:

Three hours of the energetic all-live tCo show 
Songs move seamlessly from one to another, just like a DJ would do. Working with your schedule and style, we can customize timing, pacing, and song selection. 
Professional MC services 
Introductions, announcements, and overall assistance with the efficiency of your event, all coordinated with you long before your reception begins. 
State-of-the-art sound system 
Our top of the line digital system can shake any dance floor in Cincinnati, but still be clean and clear for cocktail hour with classy standards at a comfortable volume. 
DJ playlist customized for cocktails, dinner, and breaks 
We sit down with you and prepare all the music for your event, from the first drink poured to the last one spilled.  We try to make every person on your guest list tap their toe or sing along.  
The tCo light show 
We light the stage AND your dance floor with a club-style sound-active show that keeps the crowd moving and makes everyone feel like dancing.

Professional sound technician 
Our sound engineer uses an iPad to wirelessly control the mix from every corner of the room. Vocals will be clear, and the bass will cause dancing. And we'll never be too loud. 
A customized band play list 
Your requests (and your "do not play" list) guarantee that you'll be dancing to the songs you love. Some songs are good enough that we'll even learn them for you if we don't know them.  Just ask! 
A wireless microphone for your use 
All of your toasts, blessings, and speeches can be done from wherever you'd like, whenever you'd like.  
Expert assistance in planning 
For all of your music and sound needs for the reception (and even most of the lighting you could need), we offer experienced planning help, whether it's in person or on the phone.  It's your day, and we'll help you make it one that no one will forget. 
 
---
AVAILABLE UPGRADES:

The tCo horn section
You have the option to add the tCo Horn Section (an additional trumpet player and sax player ) to the band.  It's a visual AND a musical upgrade.  And it takes your next-level live music reception to yet another new level!

Lighting Upgrades:
We offer a fully-produced concert-style display with haze, moving fixtures, and our lighting engineer.  We can also add custom colored room uplighting, pin-spotting for accents, and a few other wedding lighting staples...at prices cheaper than most area DJs.
Updated 02/20/2017
"DJ's are a dime a dozen, but a great band is very hard to come by. The Company were professional, accommodating, and thoroughly entertaining. They definitely played a large part in what turned out to be a perfect day."
"We had The Company at our daughter's wedding. They were fabulous! The dance floor was full the entire night. We have two other daughters and will definitely use The Company again."
- Lisa & Mike (Summer, 2015)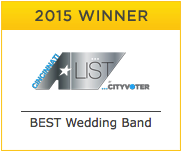 "The Company was absolutely amazing!!! If you want your guests to dance and never leave the dance floor then The Company is the band for you!"